It's time for a brand new flavor!
Stay fit with 100% organic and naturally flavored water from Lyfebottle. No added sugars or empty calories. Simply add your favorite fruit for delicious hydration you can take on the go!
Lyfebottles are perfect for weight loss and proven to restore your body's natural energy levels. They are made from high quality eco-friendly materials and specifically designed to fit your active lyfestyle. Order yours today! 
Benefits
Great source of vitamins C and B, calcium, magnesium, potassium, and fiber
Boosts water intake quickly and easily.
Efficiently rids the body of waste through kidneys, liver, and skin.
Provides a natural detox around the clock.
Feel fuller and addresses the false hunger that dehydration can cause.
Helps relieve gas and bloating.
Ease inflammation in joints.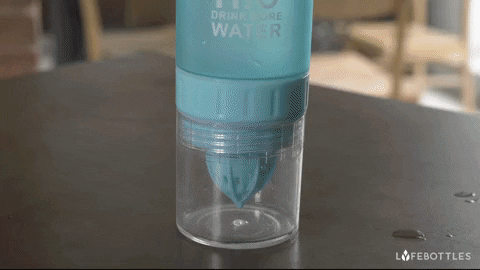 Specifications
Built-in fruit juicer
Stainless steel lid
Leak proof seal 
Convenient carrying strap
BPA-free, FDA grade silicone plastic
High quality guaranteed
Available in Pink, Orange, Yellow, Green, Blue, White, Black
Our Customer Guarantee 
✔   30-Day Money Back Guarantee
✔   Free Shipping & Fast Delivery
✔   Tracking Numbers on Every Order
✔   24/7 Hour Customer Support